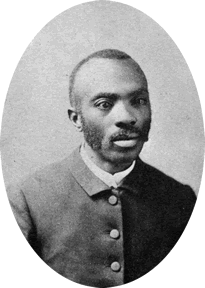 Sargeant Elijah P. Marrs
Of the 12th USCHA
Elijah P. Marrs was born in January 1840 in Shelby Co. K.; In September 1864, Marrs led 27 slaves to Louisville to join the Union army. Marrs enlisted on the 26th in L Company, 12th US Colored Heavy Artillery. He was soon assigned as Third Duty Sergeant in his company. The regiment trained for several weeks at Camp Nelson, KY and was engaged in numerous actions throughout KY. Marrs was mustered out with his regiment April 24, 1866. After the war, Marrs taught school and was ordained a Baptist minister. In 1879, he and his brother founded Baptist Normal and Theological Institute in Louisville, which became Simmons Bible College. Marrs was active with the Republican party in Kentucky as well as the GAR. On August 3, 1871 Marrs married Julia Gray of Shelbyville. Marrs' wife died in 1876.  He died on August 30, 1910.
Angus Burleigh
Of the 12th USCHA

A. A. Burleigh served as a sergeant in Company G, 12th Regiment, United States Colored Heavy Artillery. The son of an English sea captain, Burleigh grew up as a slave in Virginia and Kentucky. In August 1864, at age sixteen, he ran away from his master in Anderson County and enlisted in the Union Army at a recruiting station in Frankfort. Running away to volunteer was a risky venture for a slave. Burleigh was called a traitor and spat at, others were beaten or even lynched. In 1875, A. A. Burleigh became the first black graduate of Berea College.